2021
Research
Reflections on Curatorial Practice
··

·
While completing my Masters Degree by Research Project at RMIT University in Melbourne (2001-2005), I learned to continually reflect on and evaluate my own practice. These days, I do this through conference papers, talks and with a network of other curators in design and architecture.
2021
Curating
Women in Design
·

·
2021
Teaching
Curatorial Practice
& Sustainable Design Practice
·

·
+++ To come +++
+++ To come +++
2020
Writing &
Interviews
That Year
·

·




The year 2020 was unusual. While many of my exhibition projects stalled or were postponed, I put some more focus on my freelance writing and research practice, which I started in 2002, but which had lay dormant for a few years as I focused primarily on my work at the Vitra Design Museum and on my family.
I researched, interviewed and worked with many inspiring people. Favourites were the filming projects with
Mareck Iwicki
(for instance this interview with Alnatura Founder
Götz Rehn
), and interviews with architectural historian
Beatriz Colomina
and architect and dean of the Yale School of Architecture
Deborah Berke
.
2020
Exhibition concept
Sea Change
·
·
Can design be a regenerative practice? And if yes, what would it look like? These questions drive the exhibition project "Sea Change", which I was working on with Julia Lohmann, a designer and Professor of Contemporary Design at Aalto University in Helsinki, Finland, The project was put on hold due to the COVID19 pandemic.

2020
Design Studio / Summer School
The Activist Curator
·
·

·
In recent decades, a new type of curator – and with them a different kind of exhibition – has emerged, in the field of architecture and design. No longer bound to objects, curators increasingly care for issues. They reinvent the gallery space to become a zone for debating and discussing themes relevant to society, art, design or architecture practice. In a Summer Studio for students of Interior Design at RMIT University, students were asked to take on the role of a curator, conducting research and developing an exhibition from these findings. The were asked to ponder: What do they care about? The studio was conducted in collaboration with the National Gallery of Victoria.



2019
Exhibition
Typology. An Ongoing Study of Everyday Items
·
·

·
Which forces shape the objects that surround us? This was the broader question underpinning the exhibition project I developed with the group Collections Typologie. When we first met, they had already conducted research into the history, formal development and material culture of a number of everday items. For the exhibition at the Vitra Design Museum Gallery, a new subject was chosen: the ubiquitous wooden vegetable crate. The exhibition and resulting publication is a powerful illustration of how much economics, technology and cultural powers shape our object culture.
2019
Publication

The Atlas of Furniture Design
·

·
Why - and how - does an icon become an icon? While this has been a question I have pursued since my Masters by Research project and in my early teaching practice, my contribution to the largest publication project ever undertaken by the Vitra Design Museum, the Atlas of Furniture Design, gave me the opportunity to re-engage with this question.
2019
Exhibition
Better Nature. Alexandra Daisy
Ginsberg
·
·

·
Design practice is radically changing. Simultaneously, the need to address our relationship with nature is becoming more urgent. I was pleased to be able to work with artist and designer Alexandra Daisy Ginsberg on a solo show presenting numerous works, among them a new piece we co-commissioned. The ethical and philosophical issues Daisy addresses through her work are underpinned by the central question to all design: the desire to make things »better«. She asks: what exactly does better mean? Better for whom? And who decides? Here is an interview I conducted with Daisy for the accompanying publication.
2019
Exhibition
Lake Verea.
Paparazza Moderna
·
·

·
Who makes architectural history? And who is entitled to record and critique it? The exhibition "Paparazza Moderna" by Mexican artist duo Lake Verea addressed and critiqued these questions. For their ongoing »Paparazza Moderna« project, they create poetic portraits of single-family houses designed by renowned modernist architects.
Here is an interview I conducted with Carla Verea and Francisca Rivero-Lake for the accompanying publication.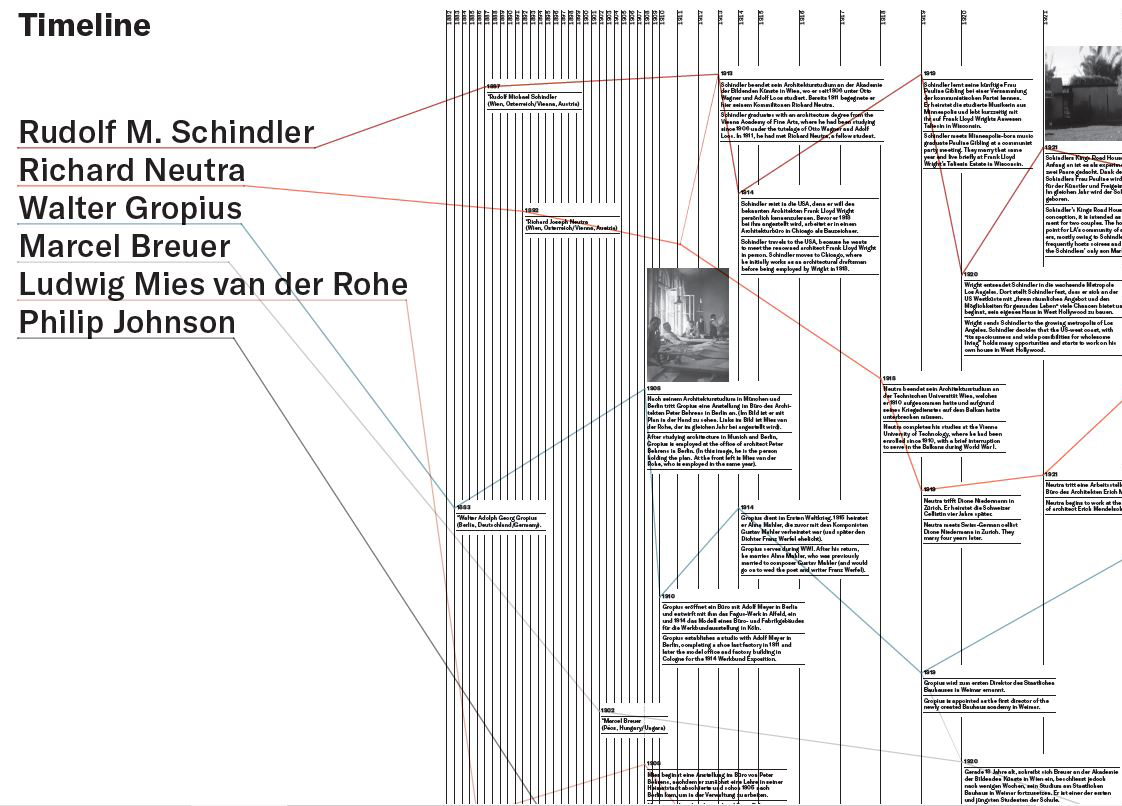 2018
Exhibition
Christien Meindertsma - Beyond the Surface

·
·

·
Dutch designer Christien Meindertsma wants to understand how processes, industries and materials work. Meticulous
investigation and research underpins all her design projects. For her exhibition, we aimed to illustrate the exact research steps taken in her work. To realise this, we worked with Studio Besau Marguerre as exhibition designers.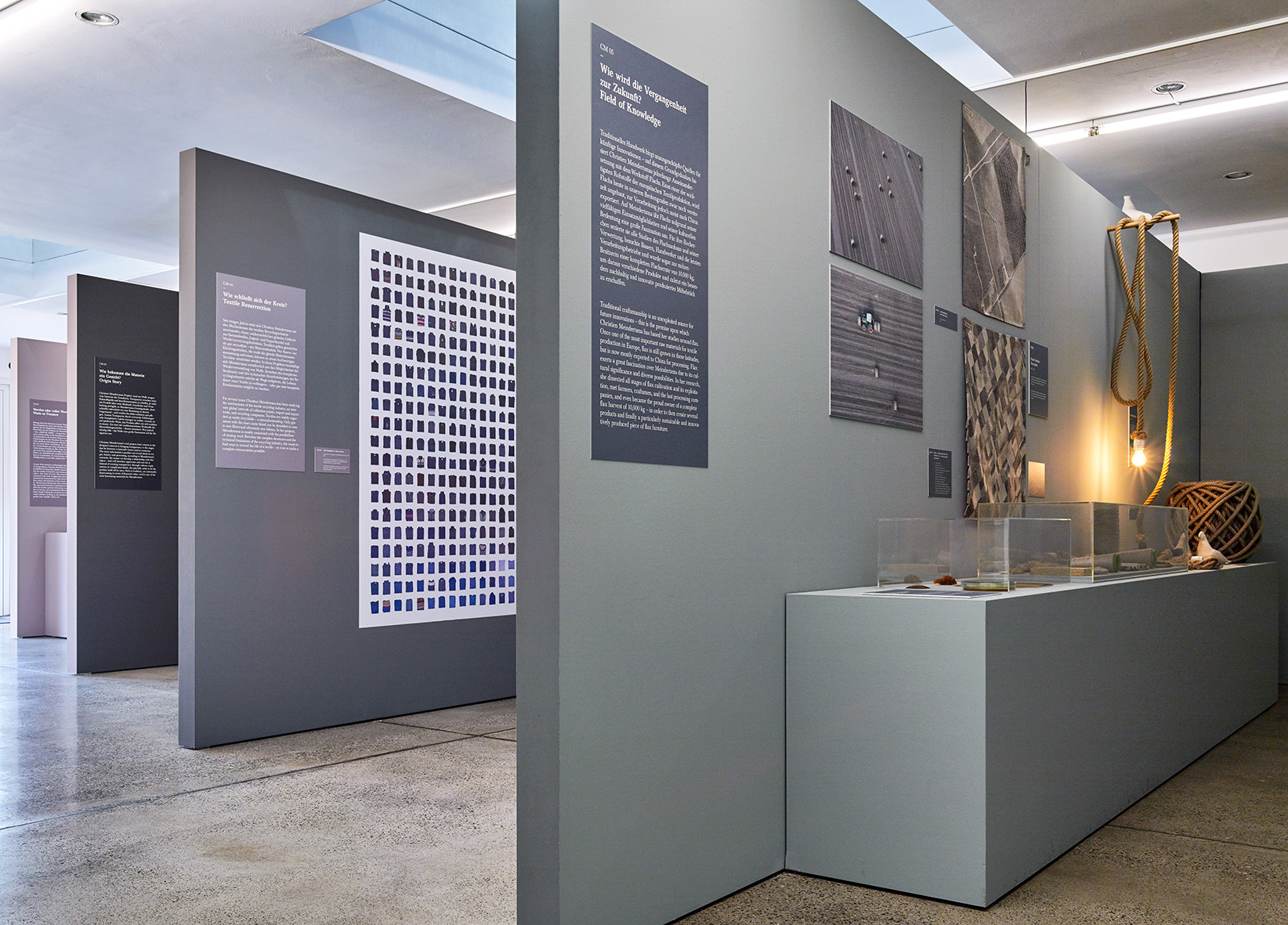 2018
Exhibition
Typecasting
·
·

·
Typecasting was an exhibition project by Vitra at La Pelota in Milan during the Salone del Mobile 2018. As it was staged during the year I covered the position of Head of Global Brand Communications, I was responsible for the global communications strategy, working very closely with designer and curator
Robert Stadler.
Here is
an interview
I conducted with him about his work and this project.
2017
Publication
The Collection
·

·
The collection of the Vitra Design Museum comprises over 20.000 objects. Only 400 of those were selected to be displayed as a tructuated, yet comprehensive history of furniture design. For the
accompanying publication
, we aimed to provide key questions and entry portals into the many ways this history could be read.
2016
Launch
Vitra
Schaudepot
·
Designed by Herzog & de Meuron, the Vitra Schaudepot was the single biggest project by the Vitra Design Museum since its opening in 1989. It provided the Museum with a second venue, now being able to put its collection on public display. I was responsible for conceiving and implementing the commonications stategy for its launch.




2015
Website & Symposium
Making Africa

·

·
The Vitra Design Museum's exhibition Making Africa was funded by the German Federal Cultural Foundation. It included an extensive accompanying programme. I co-organised a symposium at Milan's Palazzo Clerici in 2015 and created an online archive of African designers and artists. (The archive was taken offline at the end of the exhibition's tour in 2020).




2014
Publication
Konstantin

Grcic. Panorama
··

·
The exhibition "Panorama" by designer Konstantin Grcic included several large-scale installations rendering his personal visions for life in the future. We also included newspaper featuring research on the possible futures of living space, work space and public space. I was part of the research team and art directed this newspaper.
2013
Publication
The Berlin Design Guide
··

·
For over six years, I conducted research into the mechanisms of cities as living and work spaces for creative pracitioners. The Berlin Design Guide presented the outcomes of the latest research endeavor. It traced the development of the city as well as that of designers and architects within it, and pointed out significant places and people. It was published by Alpahbet Press and distributed by
Gestalten
. The book is now out of print, but you can find a PDF of 65 of the 250 pages
here.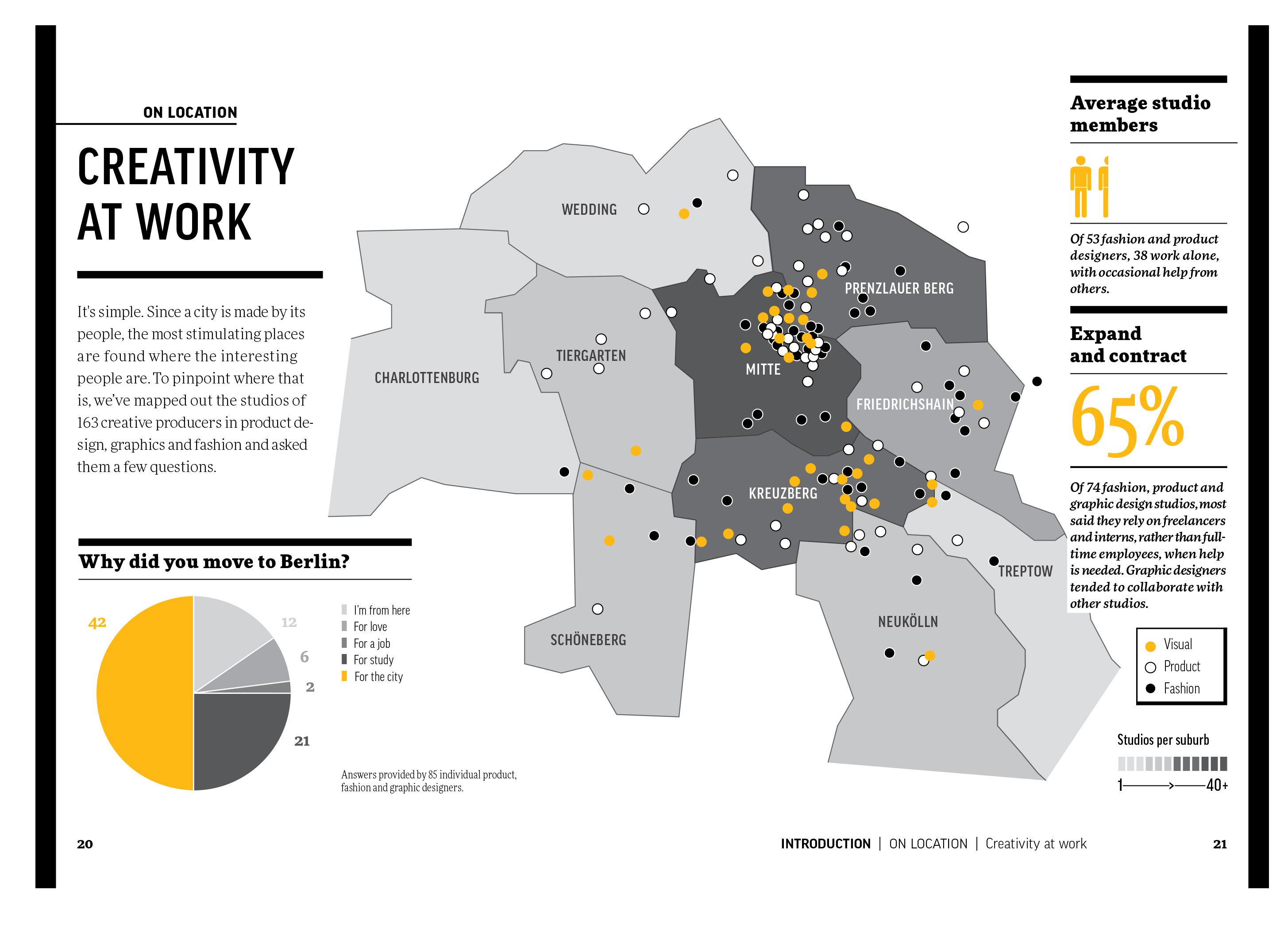 2012
Business
Alpbabet Press Berlin
··

·
When I relocated from Melbourne to Berlin in 2010, Alphabet Press came with me.
I teamed up with Kristina Leipold to extend the Design Guide series across Europe. The concept of taking a scholarly approach to researching and analysing a cities' built environment and creative culture, to then publish it in a non-scholarly format had worked so well in Australia, we wanted to take it to Europe. We worked with Shona Stark and Lily Tidhar to develop a graphic concept for this series, set up a studio and began work. The Berlin Design Guide was published successfully in 2012. We had formed alliances with Berlin Partner, Etsy, AirBnB and Fiat to create the guide, and also offered a series of city tours and workshops. However, in early 2013 Kristina and I both took up employment with other companies and I relocated to the South of Germany, so despite our best intentions, work and family took over and the European rollout remains (thus far) unrealised.
On a side note, the cover photo of the Berlin Design Guide, taken by
Oliver Helbig
, features the derelict
Haus der Statistik
. At the time, we anticipated that it was yet another ruin that would fall prey to an investor project. We wanted to commemorate it before it did. Fortunately it was taken over by a really
great initiative
in 2017.
2011
Exhibition Project

Audio Design Museum
·

·

·
Australia has a vibrant and dynamic contemporary design community, but did not have a dedicated design museum to act as an echo chamber for that community. In 2009, not many Australian museums foregrounded architecture and design in their programming. A group of us got together to put forward a proposal for a design museum to the Australia Council for the Arts -- to create a museum without a physical space. Instead, the city would become the museum space. Under the banner "Goodbye Gallery, Hello City", we created a set of Audio tours that included the voices of architects, designers and artists. The museum was launched in 2011. I was responsible for its concept and content.


2006 - 2010
Business
Alphabet Press
Melbourne
··

·
Melbourne is Australia's cultural capital. In the first decade of the 2000, through a number of public and myriad private initiatives, the city was heaving with activity in the fields of architecture, art and design. My business partner
Ewan McEoin
and I wanted to chart these developments and make them publicly available. We wanted to know what the physical and social factors were that could create a thriving creative community. We spoke to designers, and architects, to professors and planners, to young artists and retired bar owners -- and published our findings for anyone to retrace in a handy book. The book was designed by
Studio Round
.
After the Melbourne Design Guide became a real success, we expanded our work to Sydney, where different sectors of creativity were strong - fashion and media.
The Guide went through a number of editions until 2009, a further edition was designed by
Stuart Geddes
. Here, we engaged with different techniques of mapping and charting, focusing on hand-drawn maps.
2002 - 2009
Teaching
Design Studios, Electives (Research, History & Theory)
·
·

·
While undertaking my Masters by Research Project within RMIT's Interior Design Program, I began to teach within the undergraduate program. I continued teaching at the School of Architecture and Design until I left Australia in 2010. Most of the courses I offered were electives within the History and Theory mode, however I also taught studio practice, as well as courses and workshops in the communications and final project stream. Among the courses I taught regularly were the recurring "Archive of the Everyday", in which students researched quotidian objects and spaces, as well as a research methods course for final project students. As much of the teaching coincides with my Design Guide projects, there was a focus on research and investigation practices into Urban space.


2006
Symposia
What's in a Canon?

Ort
·

·
Two particularly memorable events I participated in during my early practice manifested reesarch interests that I would keep throughout the following years until today. "What's in a Canon" was a symposium at RMIT University, which I co-organised with Suzie Attiwill. It questioned the historigraphy of interior design, asking of conference participants which spaces and places they would add to a canon of interior design. For another event I was a speaker at, the series ORT by the Haus der Architektur in Graz, Austria, I contributed book chapter and a talk about Australia's unique architectural field. Instead of describing architectural practice, I focused on the Australians relationship to land and its particularities given its indigenous cultures and colonial history.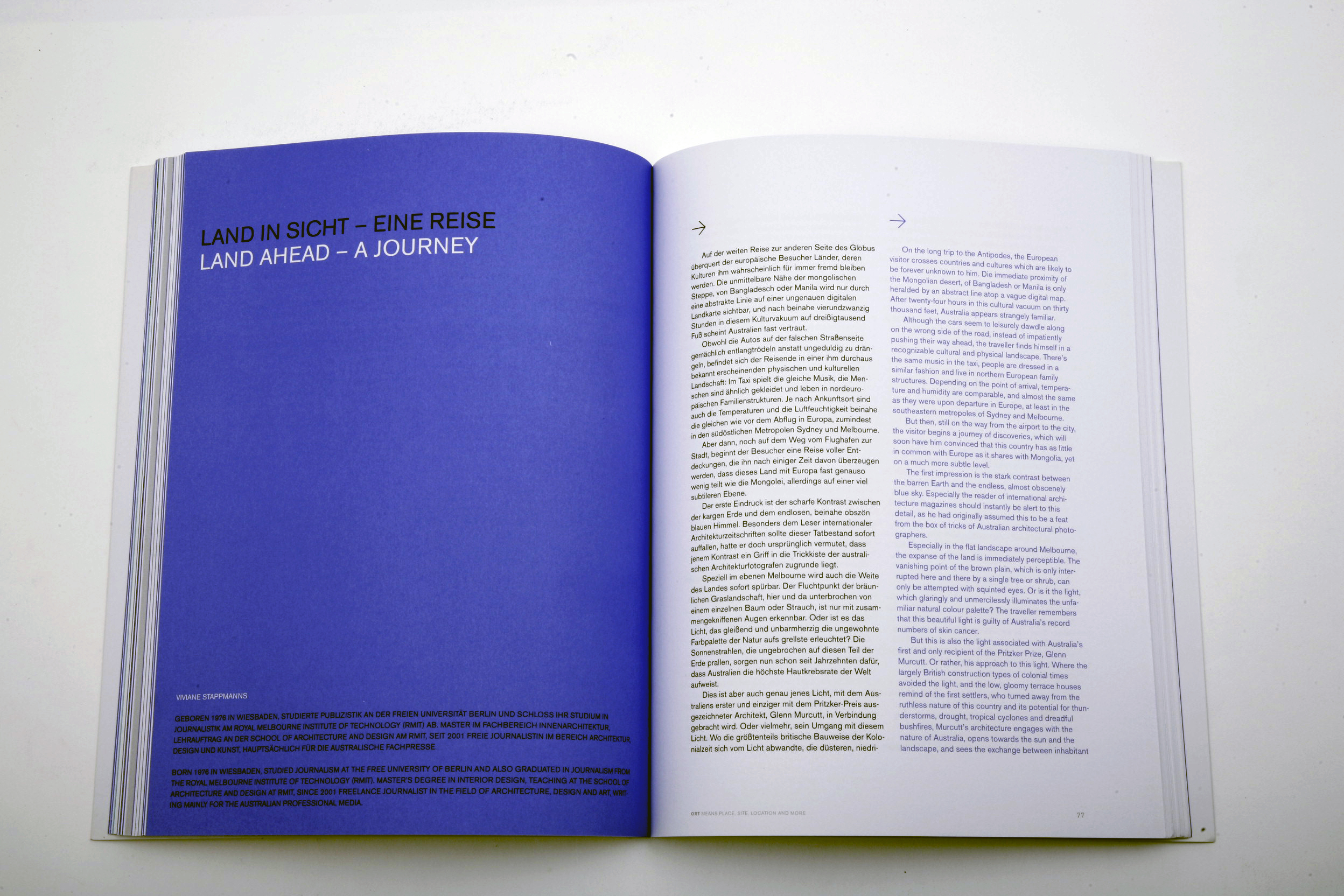 2005/2006
Publication
Green Pages
·

·
Working with long-time collaborator Ewan McEoin, I undertook several strategy and publication projects. One of them was a revamp of the sustainability directory Green Pages. The brief was that it would become half-directory, half sustainable living magazine. We created the editorial concept of the magazine, which was later translated into a design by Studio Round, and edited the launch issue of the magazine before it was handed over to an in-house team again.
2005/2006
Publication and Exhibition Projects
The Australian Ballet

·

·

·
Being fascinated by stage production and scenography, I joined the Australian Ballet as Publications Editor. I learned a lot from a great team and had extremely valuable insights into the behind-the-scenes workings of one of the largest performing arts companies in the world. I edited accompanying publications to each of the productions, art directed and project managed photo shoots and particularly enjoyed conceiving a project with the fashion curators of the National Gallery of Victoria, in which dancers of the Australian Ballet were filmed to become part of a media installation within a fashion exhibition.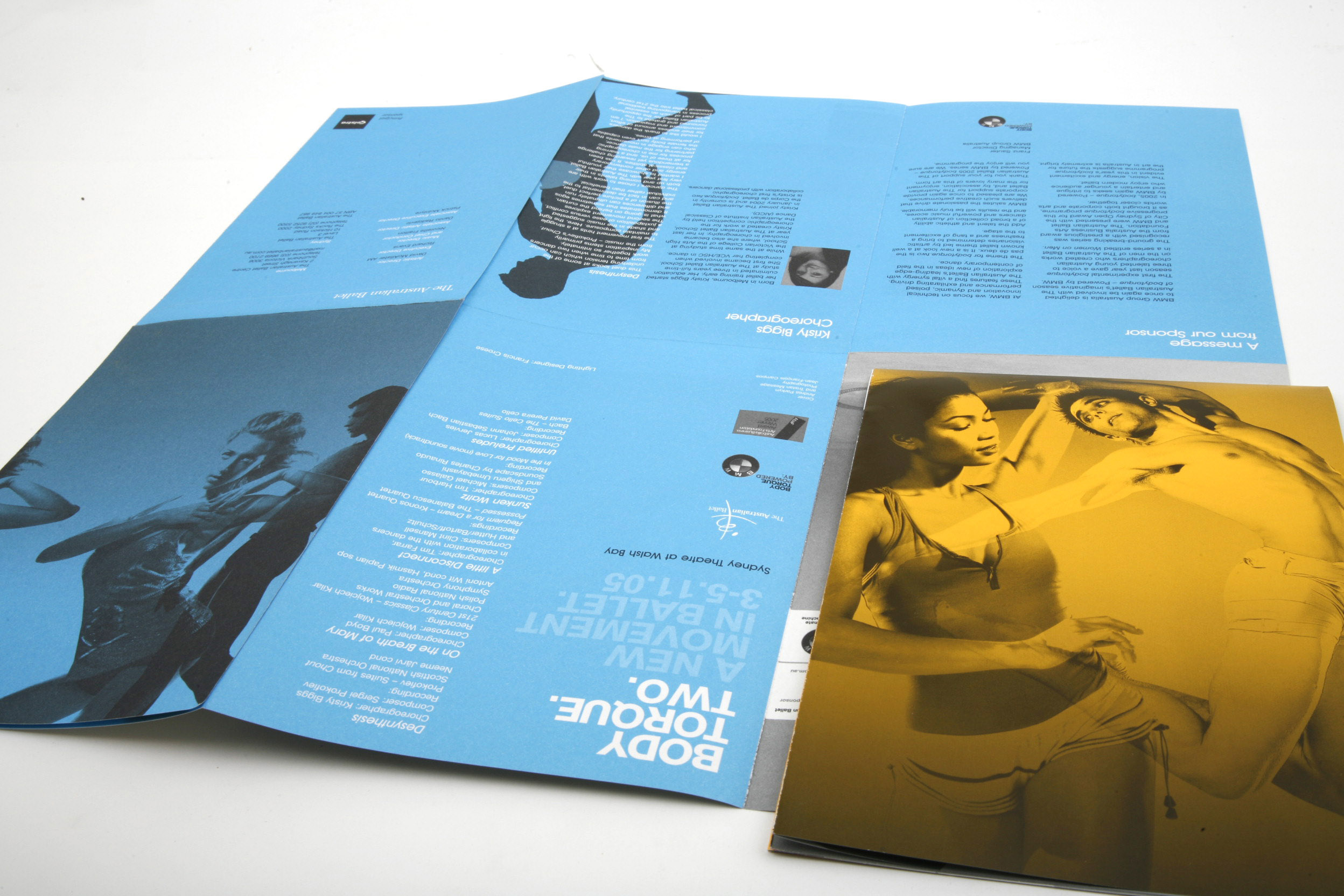 2002 - 2005
Magazine
(Inside) Australian Design Review
··

·
As Editorial Coordinator and later Editor of one of Australia's most prominent design trade journals. As part of the strategic editorial team, I was responsible for sourcing and producing content, commissioned and wrote copy and organised and photoshoots.